The master bathroom is 97.5 percent done. It is gorgeous and it's not even completed yet.
Remember where we started? Me either! The start of the master renovation seems like a lifetime ago! Check out
Phase 1
for a refresher.
So, what are the missing bathroom links, you ask? The built-in cabinet door hardware and the sink vanity, plus decor items, but I consider that the fun stuff, not work. The windows also need to be scrapped of excess paint, but since that's on MY to-do list I'll quickly glaze over that task...
As with most of Content's design decisions, I hemmed and hawed for months over the master bath. This time around, the biggest hurdle was the vanity. I looked for inspiration, I consulted the internet, I dreamed, decided, undecided, and gave up for a bit.
Initially, I was sold on a vintage porcelain console sink, like the one below:
Porcelain Console Sink
But, aside from these sinks being super expensive, the dimensions on all the stock inventory was wrong for us.
The space we have for a sink in our master is wide, and all the options I found were narrow. Though I love the look of this console sink, it always lead me down a shopping dead end.

I also had a hard time imagining John standing behind this sink. Though beautiful, it came across a bit too feminine. And, have you seen John's summer/no need to cut it beard lately?? It's the opposite of feminine, so I'll save the porcelain sink for a future powder room.
Bathroom wall where sink would be. Rough electrical for scones.
Next, I started sending John images from Restoration Hardware, like these: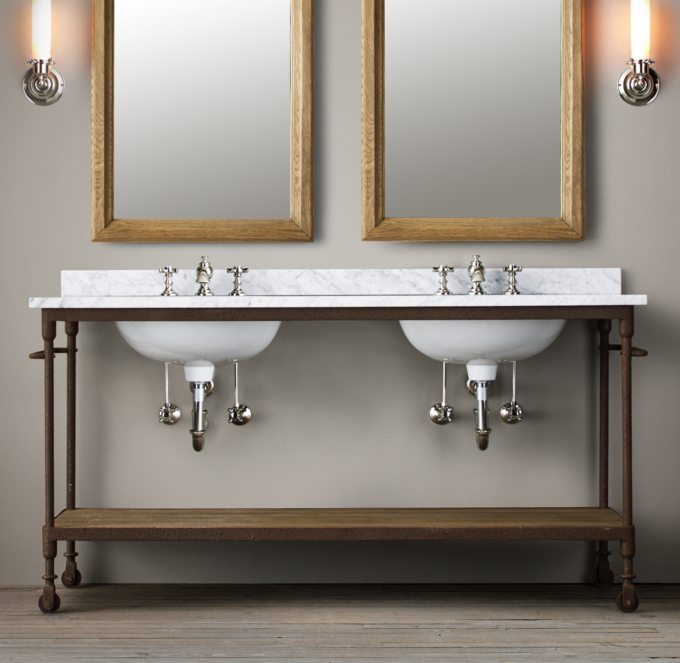 Inspiration #1: Restoration Hardware "Dutch Industrial"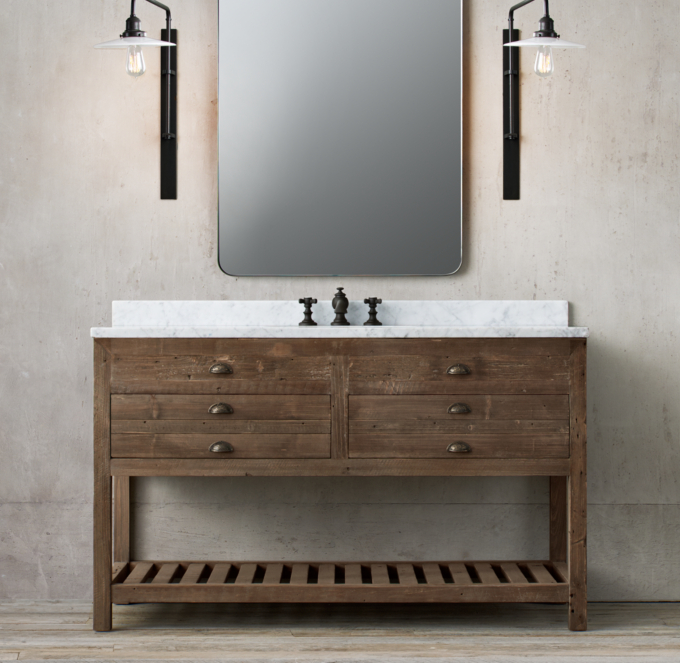 Inspiration #2: Restoration Hardware "Printmakers Washstand"
Here's what I love about these Restoration Hardware pieces. Inspiration #1 is sleek, industrial and weathered. I love how the plumbing supply lines are exposed.

Inspiration #2 is rustic, solid and clean, and I love the slatted bottom shelf.

Here's what do not love, their price tags. Each are over $1,500 for the base alone then add on the counter, sink and fixtures. Not an option for us!
John + I discussed the inspirations at length, and instantly #1 was out. John had already been tortured through cutting iron pipe at Home Depot for the closet design, and was not looking for a reprieve. He so easily and comfortably works with wood, metal was not to be considered.

So, we moved forward with #2.
Our vanity design would be a bit different though. First, we would not include drawers. This would enable us to expose the plumbing ala Inspiration #1. The slatted bottom shelf was a must, but we would not use marble on top.
In fact, the goal from the start was to use bluestone as the counter top material, which would match the shower threshold we installed.
Bluestone threshold
From there, John met up with Bob again, his favorite wood connection in Milestone, NJ, and was able to get a beautiful piece of rough cut walnut.

And, as if John needed more challenges, he set a personal goal on this project:

"Construct the entire vanity from one, single piece of wood."
Starting to construct the vanity base from one piece of wood.
With the vanity in the works, I decided on a simple, Kohler self-rimming sink which we purchased from Home Depot. We needed to know the sink dimensions in advance, so the countertop template could be created and properly cut to size.
Kohler Pennington Self-Rimming Drop-in Sink: $72.00
I also wanted the alreafy installed bath tub fixture, which I LOVE, to work with the sink. So, I splurged a bit and got this one in the same Antique Bronze to match.
Randolph Morris Teapot Faucet with Porcelain Cross Handles: $110
(vintagetub.com)
Completed walnut vanity base
With the vanity base completed and in place, John and I designed the vanity counter top template which we gave to Ryser's Landscaping, to have fabricated out of bluestone.
Bluestone is an interesting product, most typically used in hardscaping exterior spaces such as patios and walkways, but most famously found at Stonehenge. Who knew? Not me. Totally Googled that!
Most local bluestone on the east coast comes from quarries in New York and Pennsylvania, so it is a budget friendly option for us in New Jersey.
Bluestone vanity top, with template propped behind.
Now, back at the ranch, the countertop is in place, and it looks awesome! Take a look!
** Oh, and since this picture was taken, we've purchased a brass drain to replace the white plastic.
So, what do think?
Next post will be a full room tour! Gahhh, I can't believe how far we've come!